To truly dress well, a man must pay attention to the details.
You have an understanding of the foundation behind layering clothes , you take interest in the variety of available suits out there and know which seasons demand certain fabrics, you endeavor to own (if you don't already) a bespoke suit and know the fundamental difference between bespoke and made-to-measure.
However, some aspects of men's fashion are more obscure than others. Tailored, well-fitting jackets are one of those things.
Now, as far as the topic of jackets goes, it seems that both we and retailers alike fall into using the terms "sports jacket," "blazer," and "suit jacket" interchangeably more often than not.
Reasonably so, these jackets are very similar in many ways.
However, there are some noteworthy distinguishing details that should be learned.
Why you might ask? For starters, knowing the difference between these three classic menswear staples will save you from embarrassing wardrobe mishaps.
You'll know not to show up to a formal event in a sports jacket, and you'll know not to try to layer a thick sweater under a fitted suit jacket, for example.
Equally as important in understanding the differences between these pieces, you will also come to learn a little bit about each piece's history and place in menswear, which, come on, is just downright cool.
Read on to learn about each jacket's origins, key distinguishing characteristics, function, and styling potential.
(Read next – Dressy Casual in the Age of Athleisure )
The Sports Jacket
Starting with the least formal of the three, a sports jacket (a.k.a. "sportcoat") is typically a less structured, more casual piece.

Modern fashion lightweight Sports Jackets
Sports jackets were also what a man would wear in the mornings or when the season or occasion did not warrant something as formal as a suit.
Back in the day, sports jackets were considered a luxury item, as many men could only afford a traditional suit without any alternative options.
Over time, as clothing became more abundant and affordable, the sports jacket lost its association with outdoor activities and grew instead to be a staple of casual yet sophisticated style.
Distinguishing Characteristics
Offered in a wide

 

variety of colors

 

and patterns
Are less structured and fitted, providing the ability to layer as well as a wider range of movement
Sometimes (though not always anymore) feature elbow patches, slits, ticket pockets, and/or pleats
Key Fabrics
Flannel
Houndstooth
Herringbone
Styling Tips
Being the least formal of the three jacket varieties, the sports jacket should be your go-to when you want to elevate a pair of denim pants.
Conversely, virtually any pair of trousers that isn't identical in color or texture to your sports jacket will pair well.
Since a sports jacket is typically your most loose-fitting option, these pieces do well when layered over sweaters, turtlenecks, and other thick garments (but they will also look sharp with any standard tee or button-up).
The Blazer
Dressier than sports jackets but not as formal as a suit, the blazer serves as a nice middle ground piece that elevates outfits nicely without going overboard.

Classic design, suitable for casual and formal wear.
The blazer that we recognize today has origins in the early 1800's, during which the captain of the warship HMS Blazer commissioned short, double-breasted navy jackets with brass buttons for his crew in an attempt to appear presentable for Queen Victoria, who visited the ship in 1837.
To his surprise, the queen liked them so much that their popularity surged and they became a standard uniform piece shortly thereafter.
The blazer grew in popularity throughout Europe for both work and leisure purposes, and traveled over to the US's fashion scene in the early 20th century.
 Distinguishing Characteristics
Highly versatile–dress one up or down with ease
Traditionally navy blue, but today come in a wide variety of colors (it should be noted, though, that if you only own one blazer, make it a navy one)
Come in 2-button

 

single-breasted, 3-button single-breasted, and 6-button double-breasted varieties
Offer a bit more shoulder structure and are more tailored than a

 

sports jacket
Feature buttons that are traditionally gold, silver, or mother of pearl (though both casual and formal button varieties can be found today)
Key Fabrics
Worsted wool
Serge
Cashmere
Flannel
Fresco
Styling Tips
To dress a blazer down, feel free to pair yours with denim, colorful chinos, or khakis.
For a more formal take, flannel trousers and tailored slacks look superb with blazers as well.
Though a blazer will look nice with anything from a t-shirt to a thin turtleneck, blazers look most classic with a crisp button-up shirt and a tie (or bow tie).
As far as shoes go, the versatility of blazers lend themselves to a wide variety of shoe pairings.
Based on the formality of the pants you are wearing, choose shoes accordingly.
Flannel trousers will demand something like a double monk strap or oxford.
Chinos and jeans, on the other hand, will pair nicely with loafers or any other dressy casual shoe.
The Suit Jacket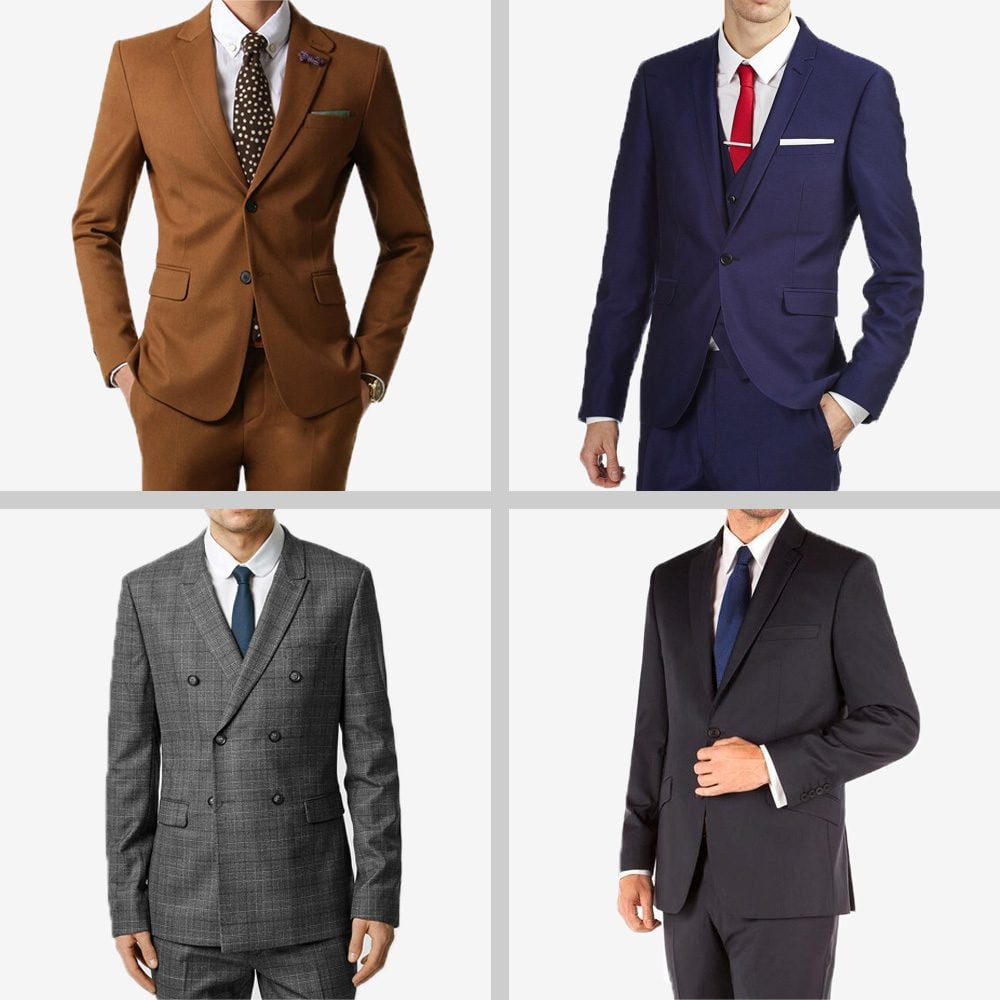 Last but not least, the dressiest of the three jacket types is the suit jacket.
This piece has been around the longest and is without a doubt the most traditional and popular.

Lining provides protection for the inside of the jacket.
The single most distinguishing factor of a suit jacket is that it has a matching pair of trousers that was made from the exact same swatch of fabric.
The suits that we know and associate with business wear today have origins in the 18th and early 19th centuries, during which morning suits (suits with 'tailcoats' that feature a split in the back to accommodate equestrian activities, which were strictly done in the morning–thus the name) were introduced to European fashion.
Tuxedos followed shortly thereafter, being used exclusively by upper-classmen for formal evening affairs in the 1800s.
The suit we know and wear today first appeared in the wardrobes of elite in the mid to late 19th century, and while its exact origins are hazy, its design is thanks in part to the work of Savile Row tailors, who increasingly introduced elements of military and eveningwear into daywear throughout the 19th and early 20th century.
Today, the suit jacket and matching trousers are both a business- and evening wear staple in menswear, second to nothing other than the aforementioned tailcoat and the tuxedo in terms of formality.
Distinguishing Characteristics
Should come with a

 

matching pair of trousers

 

and/or a vest that is made of the same weave and fabric
Are typically the most minimal of the three jacket styles in terms of color and embellishments. Suits will most often only come in neutral colors and simple patterns (pinstripe, houndstooth, windowpane, solid, etc.) unless they are bespoke
Feature notch and peak

 

lapels, which distinguish them from many tuxedo jackets, which feature shawl lapels instead
Are the most fitted of the three pieces, and are therefore not technically meant to be layered
Key Fabrics
Cashmere
Worsted wool
Linen
Seersucker
Cotton
Silk
Styling Tips
Suit jackets are technically supposed to be worn exclusively with their matching trousers and vests.
You may match your suit jacket with nice denim or slacks in certain occasions, but never for formal events.
In terms of shirts, since suit jackets aren't meant to be layered, it is best to stick with dress shirts and thin sweater vests at most.
Formal shoes, naturally, are the best bet for pairing with a suit jacket. You can't go wrong with dark oxfords, brogues, or dress boots.
We hope that this helps to clear things up for you a little.
Though these pieces can be worn interchangeably in most occasions, it is important to note the key differences.
For example, if you plan to wear a turtleneck or multiple layers underneath, your best bet would be a sports jacket.
If you've been invited to a company networking event, you might want to reach for your full 2- or 3-piece suit (unless you work for a less formal organization or the networking event is a happy hour, in which case, opt for the blazer and contrasting trousers instead).
But no matter how you slice it, all three pieces are great additions to any man's wardrobe, and each jacket contributes significantly in the spectrum of casual to formal attire.