Fashion Hombre by David Walker
https://www.fashionhombre.com/best-ways-to-wear-plaid-pants/
If there is one outfit that you must add to your wardrobe this fall season, then plaid pants should be your priority. The chequered pants not only offer you comfort but also maintains your body warmth in the chilly temperature of fall and winter. Made with twilled wool, the pants give you a bright appearance that suits formal and casual occasions. With some of the great men's plaid pants outfit ideas, you can offer your Fall fashion a new dimension. Whether you are pairing them with a shirt, T-shirt, jacket, or blazer, every outfit will deliver a unique appearance. 

Plaid pants are so stylish that they don't make you feel that men's fashion is boring. Instead, you will be given several options to choose from according to the purpose. So, catch up on the section below to know the ten best plaid pants outfit combinations for men and how they can upgrade your fashion game this season. 
BEST WAYS TO WEAR PLAID PANTS
BLACK LONG SLEEVE SHIRT AND GREY PLAID PANTS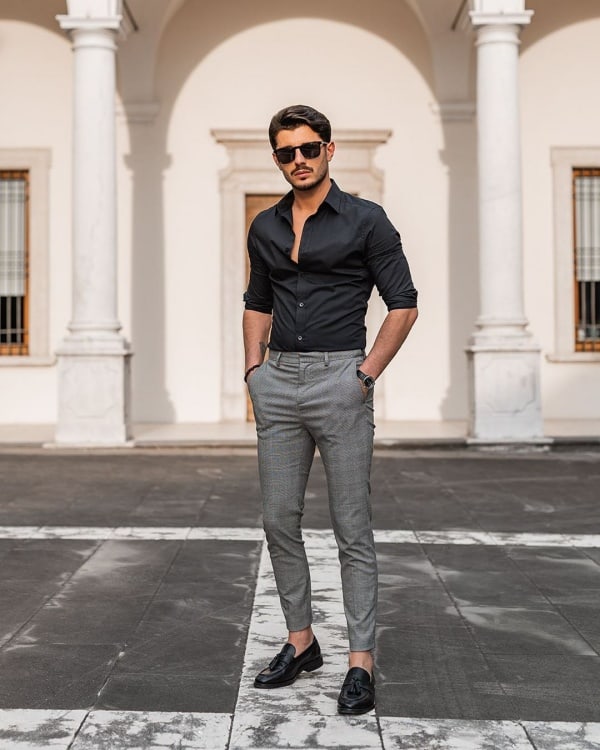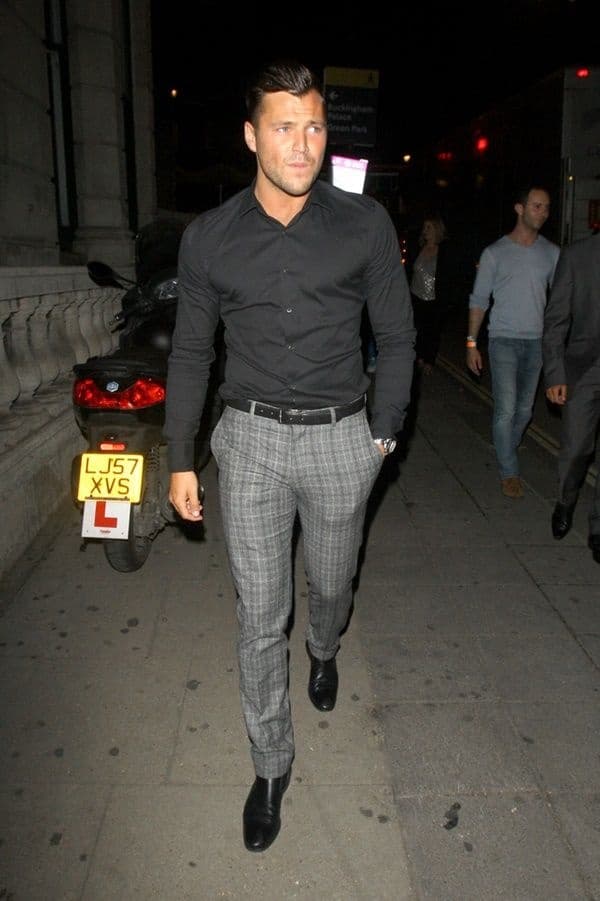 Plaid pants outfits are never out of time. Also, when it comes to men's plaid pants outfit ideas, a pair of black long sleeve shirts and grey plaid pants possibly can never go wrong. They are a classic and tested combination, and pulling in this outfit requires no second thought. If you are up for a meeting or something, you can never regret choosing this pair. So, pull up your black long sleeve shirt and a pair of grey pants and pair them with a pair of neat and polished black shoes, and you are all set to bring in a classic essence.
NECK T-SHIRT WITH PLAID PANTS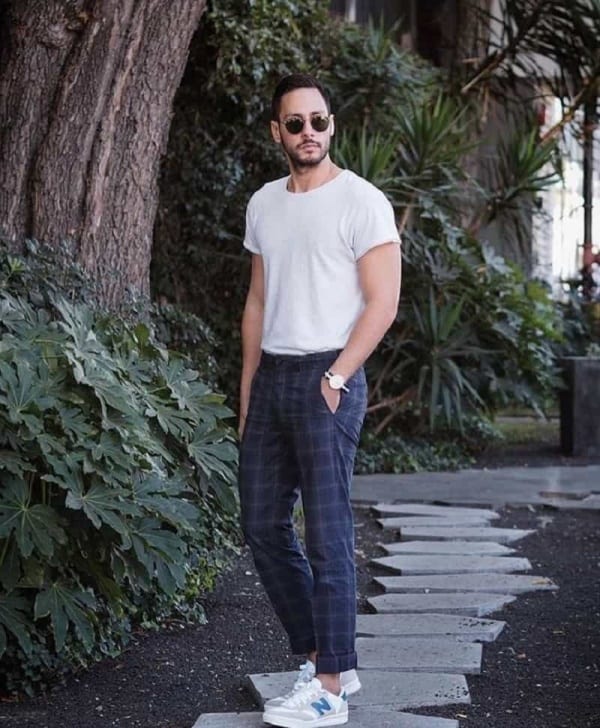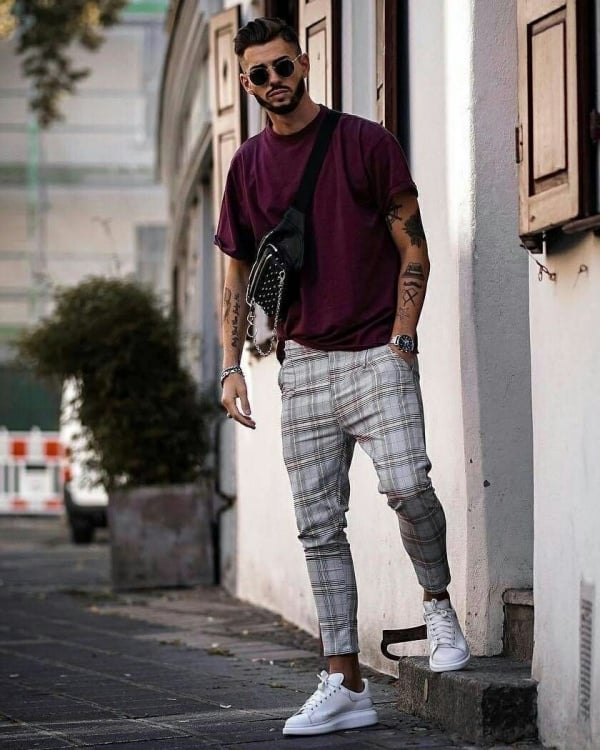 It is a popular thought among those fashion freaks who are a die heart fan of casually dapper outfits that a neck t-shirt and plaid pants if married together, would result in a match made in heaven. To look extraordinary even in a traditional neck t-shirt, this is probably the best look to pullover. Pair your plaid pants with a white neck t-shirt for a more formal and work-approved look. White leathered sneakers would be the perfect contrast to choose from all. However, if you are up for an outfit that would look chic and sleeky, you should probably pair your plaid pants with a black print crew-neck t-shirt to turn heads wherever you go.
BLACK BLAZER WITH PLAID PANTS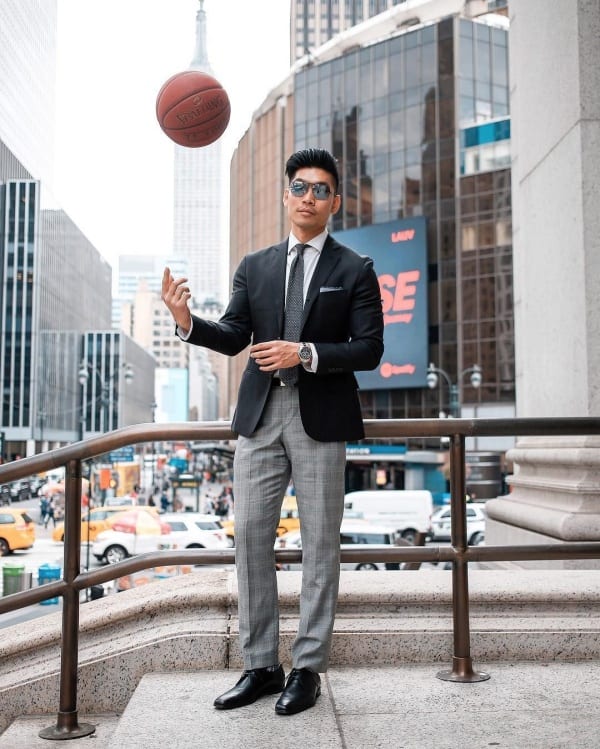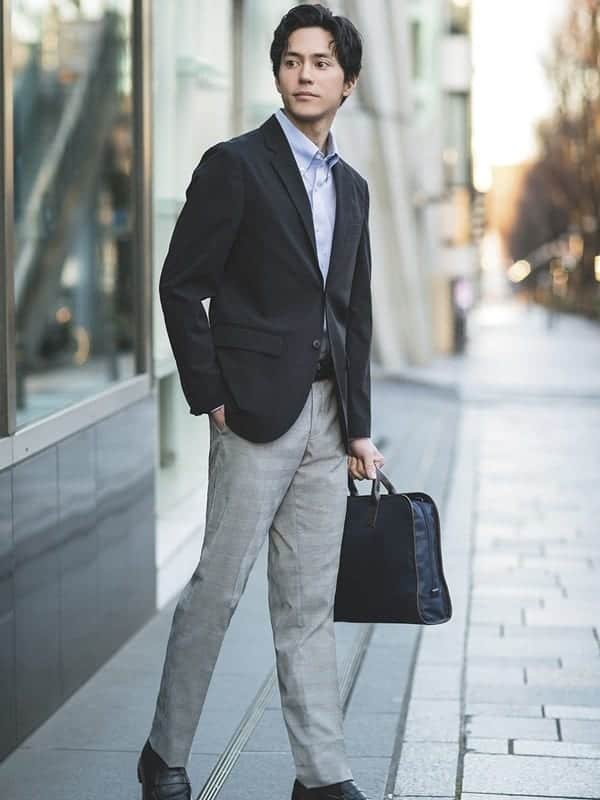 Plaid pants for men can never run out of fashion. When it is pretty chilly outside, you probably think of what exactly to pair with your subtle plaid pants. In that case, a blazer can never go wrong. Wearing a blazer that matches your pair of plaid pants can instantly upgrade your not-so-good look for the day. A plaid suit will always be regarded as a classy and classic outfit for every formal event you go to. White and black is the most fabulous color combination ever possible. So, wearing your pair of white plaid pants with your black blazer is bound to be among the best outfit choices you ever made.
HALF SLEEVE COLOURFUL PRINT SHIRT WITH PLAID PANTS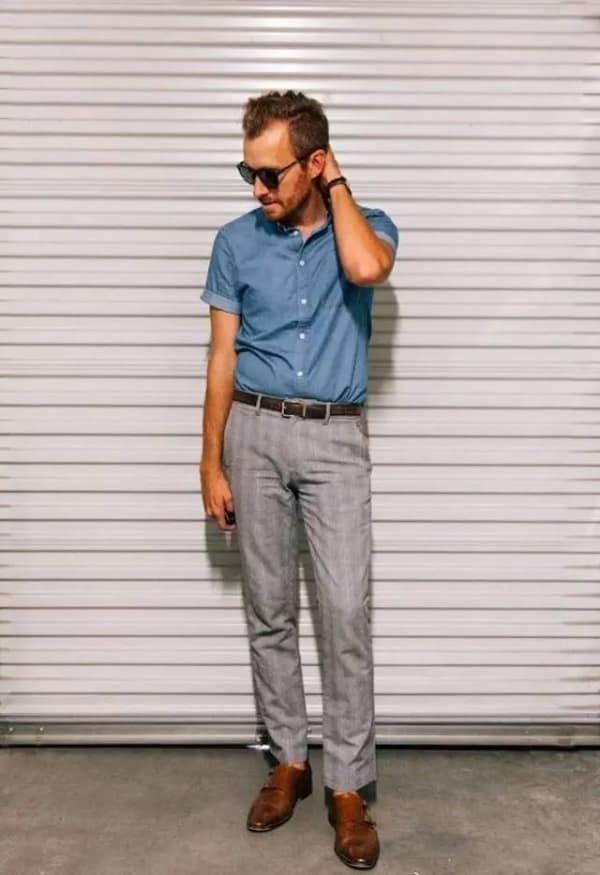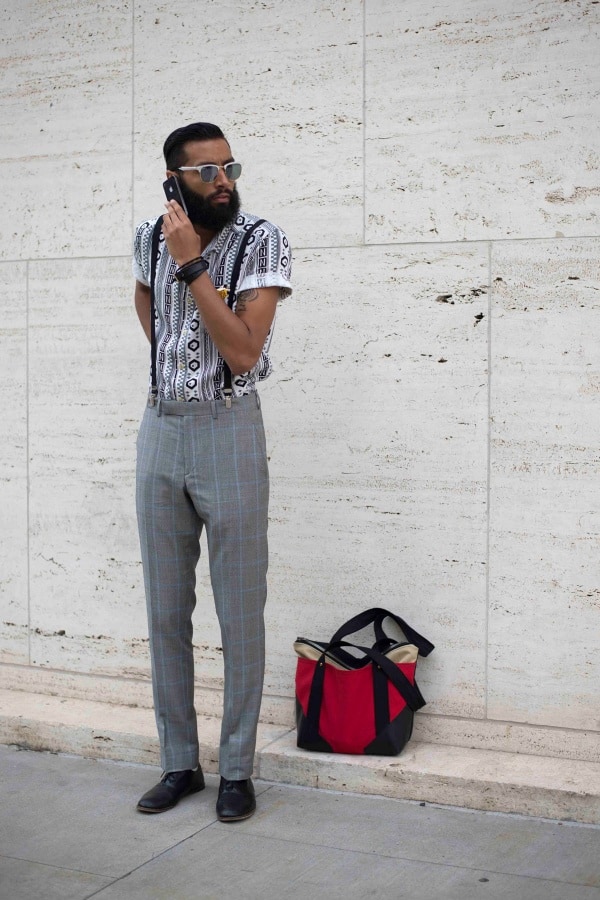 If you plan to go for something experimental with your dress code for the day, then a pair of plaid pants with a half sleeve colorful print shirt is a possible combination to try on. This outfit will give you a look that suits both modern formal and informal purposes simultaneously. You can run into your office with this look and also crash at a bar after the day. Your look is bound to look great in both places and environments. This pair will give you an effortless and classy pair to go with.
DENIM JACKET WITH PLAID PANTS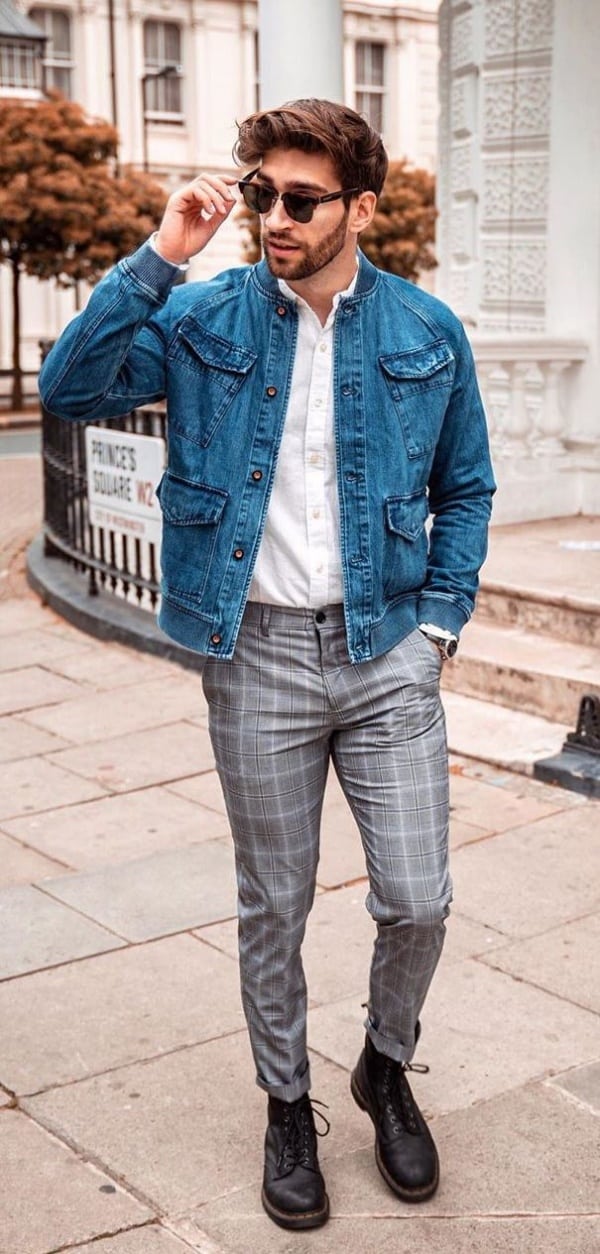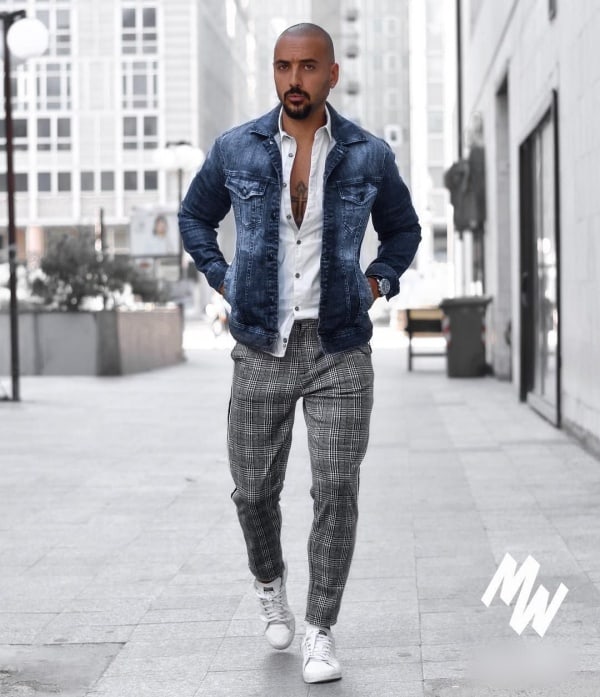 Denim jackets never fade out of fashion because of their superiority in being versatile. You can look great wearing your denim jacket with any possible combination. Denim jackets are among those timeless modern classics which look effortless. Denim jackets are a great option to camouflage anything and even your plaid pants too. It will surely bring a lot of funky essence to your more than a basic outfit. A denim jacket paired with plaid pants would surely be a fantastic combination for going out to your onsite meeting.
BLACK T-SHIRT WITH PLAID PANTS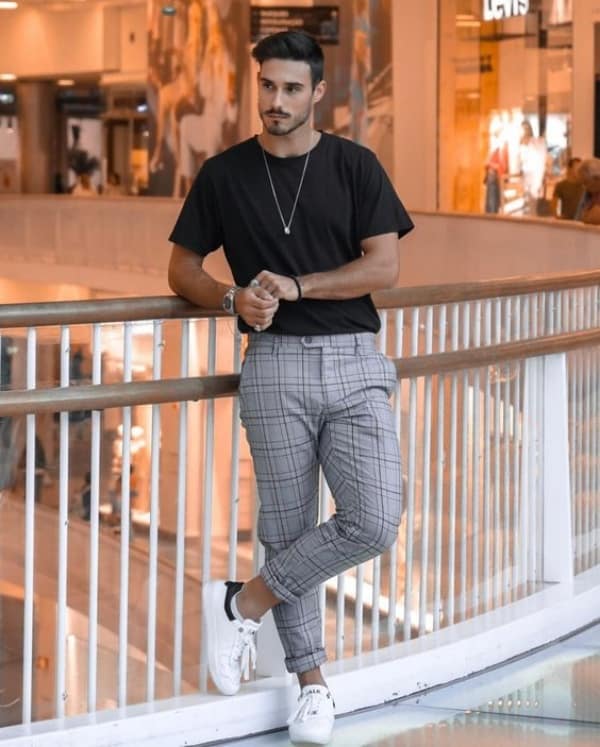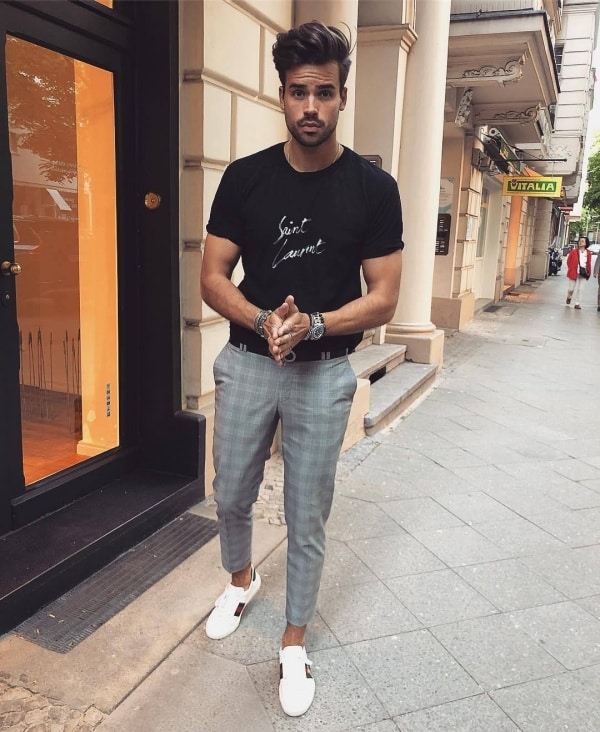 As we all know, a black outfit can never go wrong. Black is among those rare colors that can pull over any usual look to a classy and timeless fashioned one. One of the most basic yet stylish combinations would be pairing your black t-shirt with your plaid pants. When you are lazy enough to try something experimental, you should go along with this choice, and you can never really regret choosing this. It would be among one of the coolest and casual outfits to try on. Pair them with vans sneakers to make sure of a great combination.
HOODIE WITH PLAID PANTS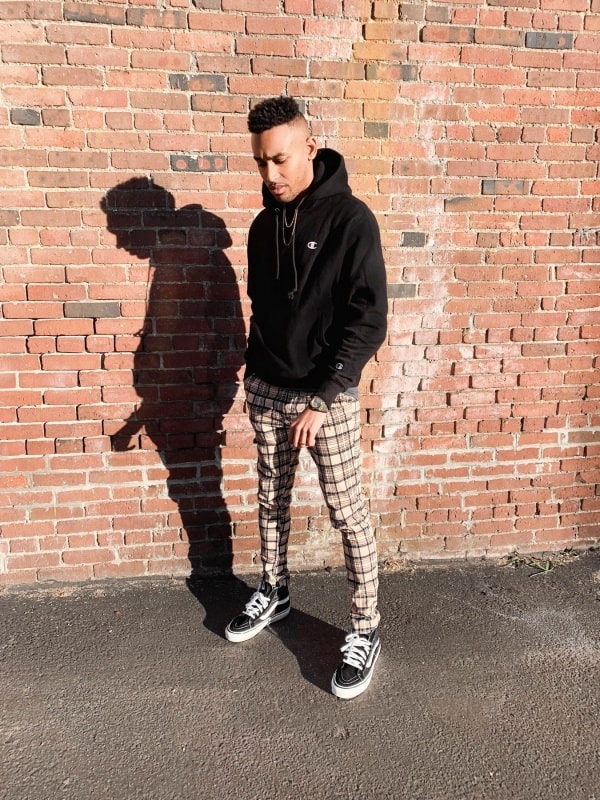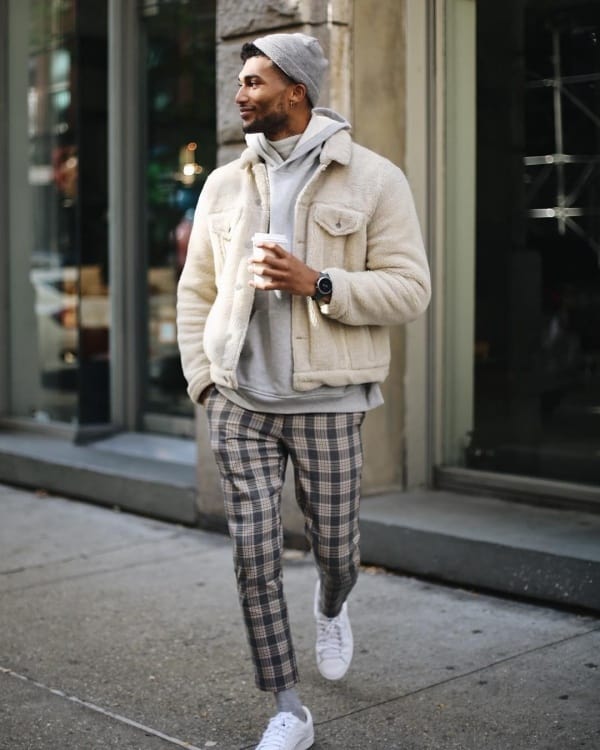 Plaid pants are generally not considered as the regular formal outfit one usually chooses. But with the evolution of office environments over time, people tend to choose more casual and relaxing outfits. A hoodie paired with plaid pants can be among the best choices for casual men's plaid pants outfit ideas. It would be a great dress code to turn heads, and it even works for an after-work Friday night. Pair them with boots to make sure a more significant percentage of people are impressed with the choice of your outfit.
OVERCOAT WITH PLAID PANTS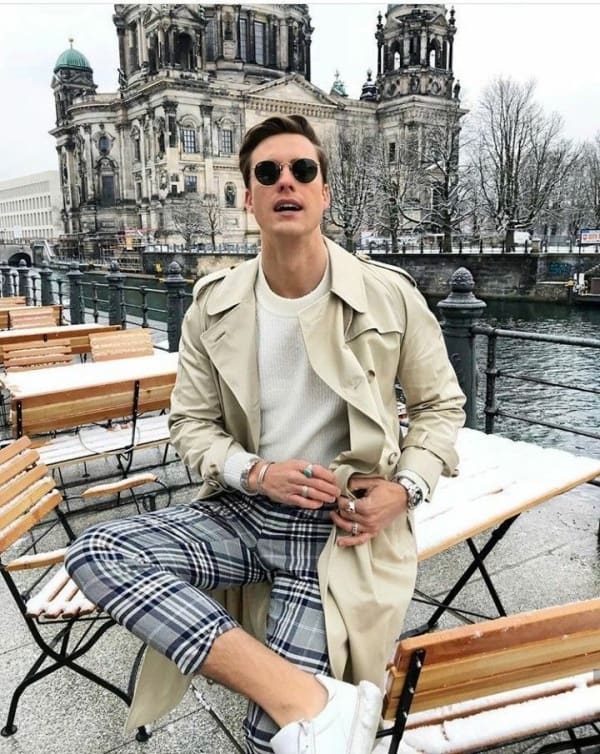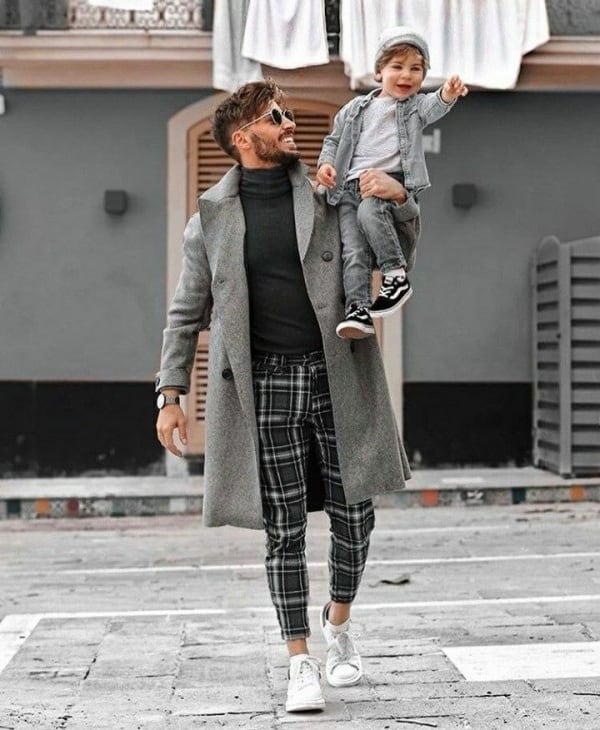 Overcoats are a classy and chic choice of outfit. When the weather is turning chillier, an overcoat is the smartest thing to pull over so that you already look great in the combination of your regular overcoat and a pair of plaid pants. However, one should never forget that the color code plays a more significant role than one can imagine while choosing a dress. For an outfit that looks polished and classic, pair a black overcoat with your khaki plaid wool dress pants. For ensembling a pair of outfits that looks super straightforward but can be worn in many different ways, try pairing an olive-colored overcoat with your plaid pants. Try complimenting the look with a pair of black leather boots or some tan high-top sneakers.
LEATHER JACKET WITH PLAID PANTS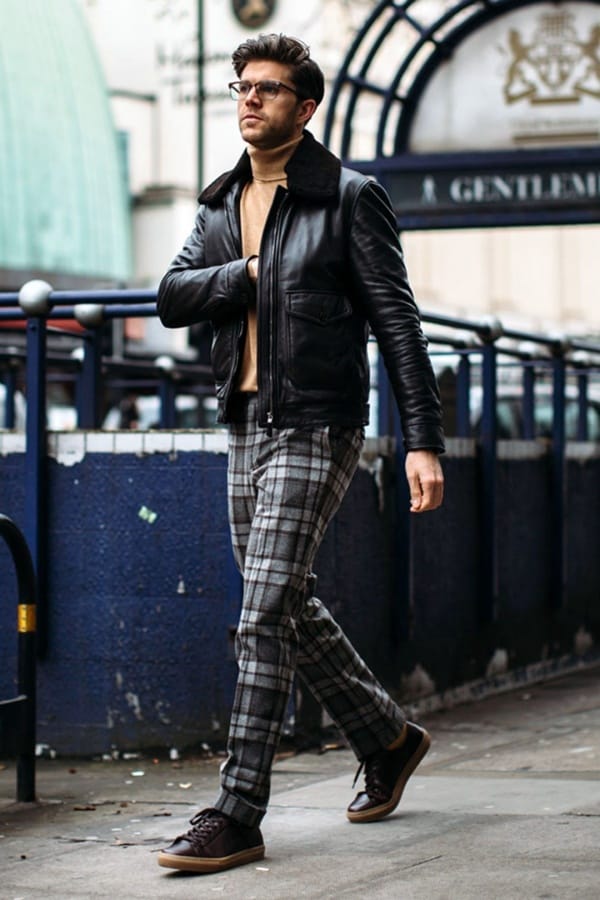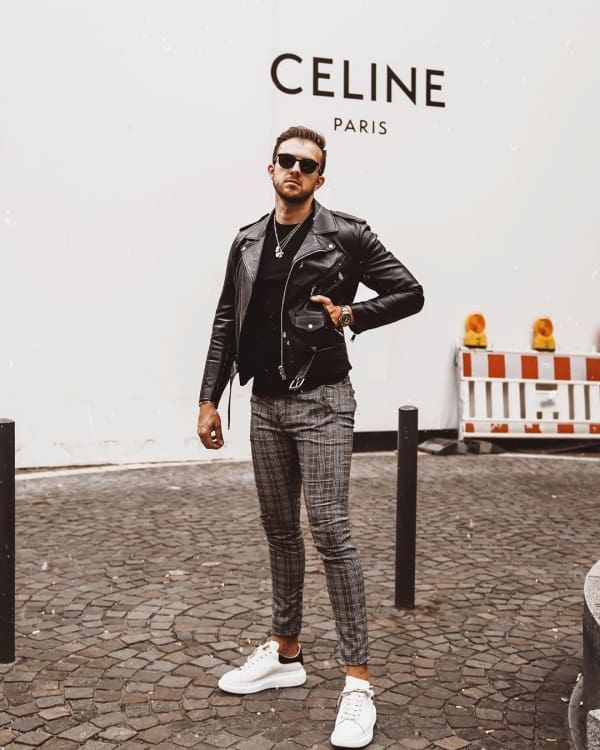 Leather jackets rank high among those trendy and timeless outfits which look good when paired with almost everything. Leather jackets indeed exude masculine vibes and are a great combination worth incorporating into your off-duty repertoire. It gives your overall get-up a classier aesthetic. You can also try complementing your outfit with a pair of casual suede casual boots.
PUFFER JACKET WITH PLAID PANTS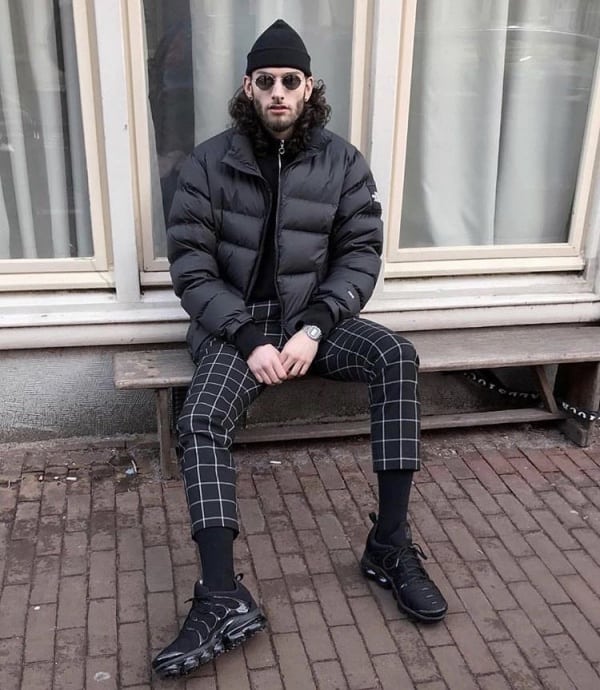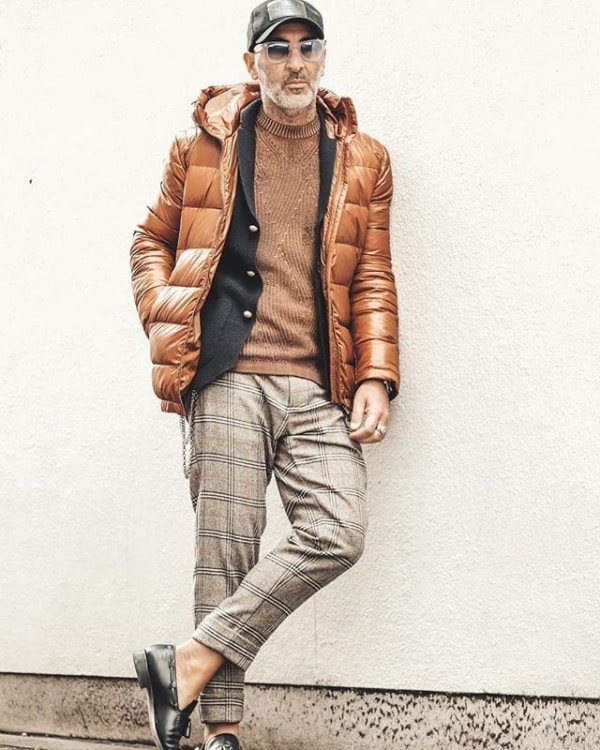 If you are ready for some off-duty combination, try pairing your plaid pants with a puffer jacket. If it is chilling outside, you and you prefer to ditch your casual jacket outfits; then a puffer jacket outfit is a must to try on. However, if you are going in for some elegant combination, pull over a pair of plaid pants with a black-colored puffer jacket. For a bold and trendy look, you can go for a black puffer jacket with grey plaid pants. Compliment your look with some bright socks and white trainers and put on a bucket hat to turn heads.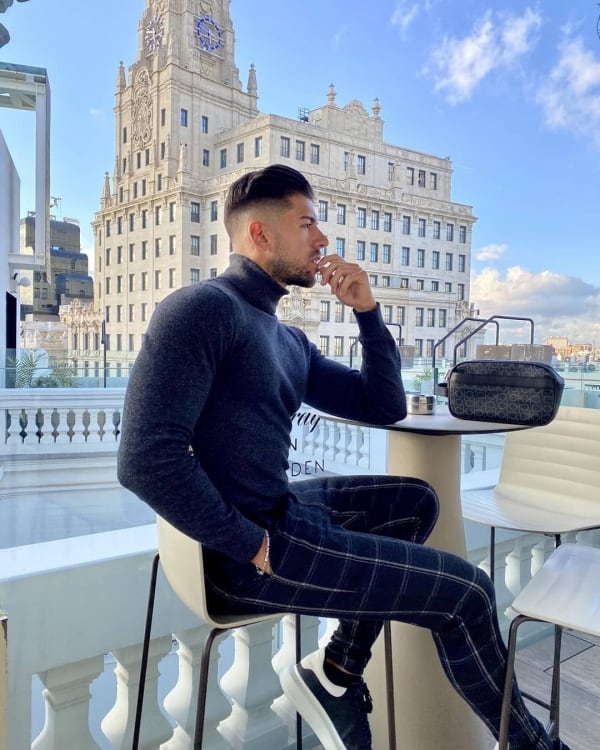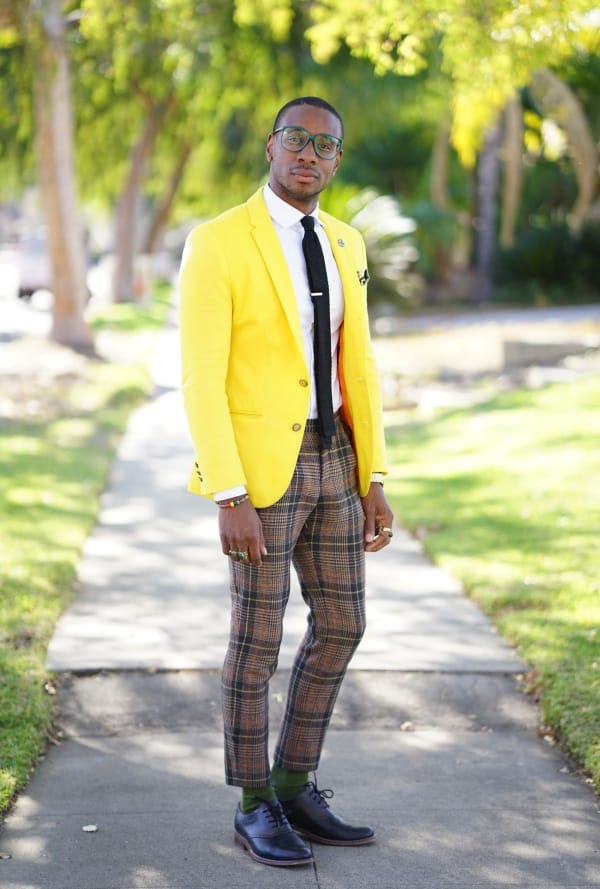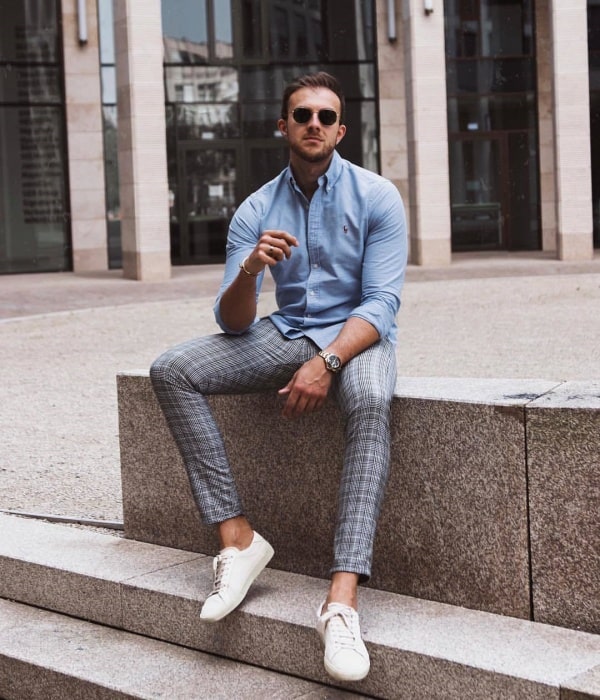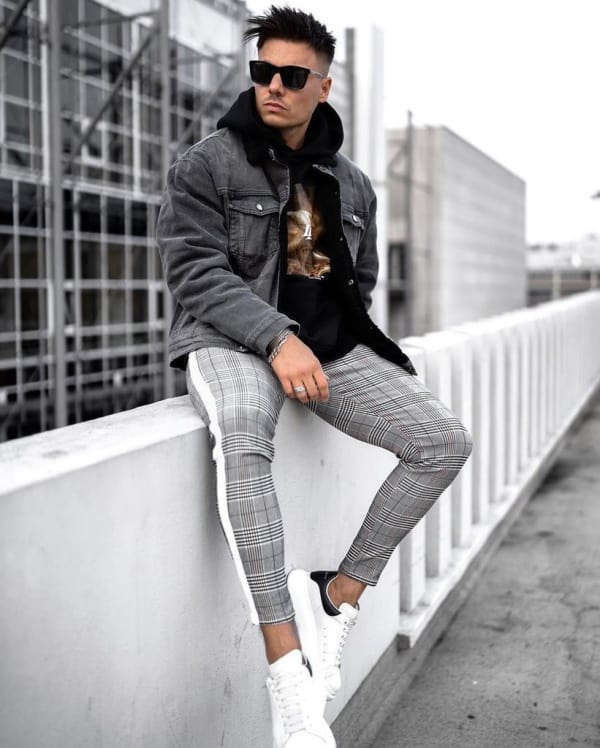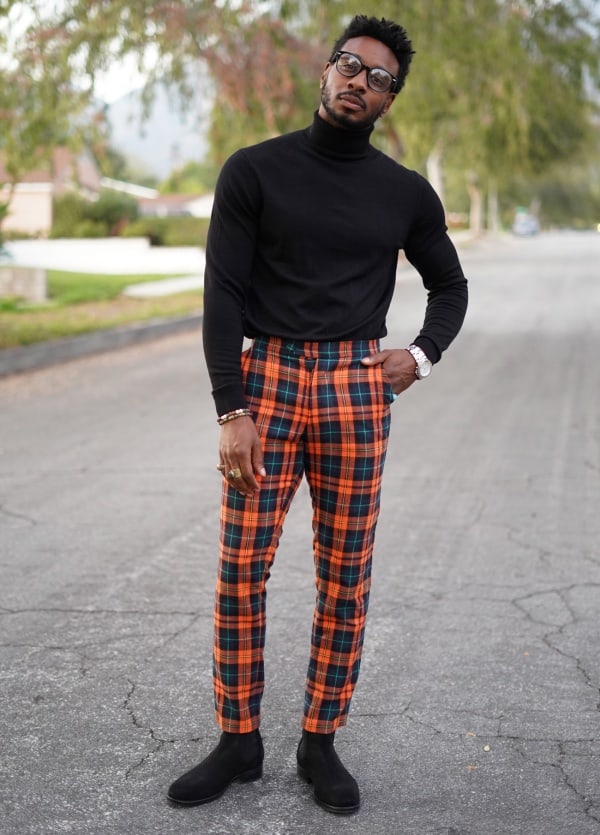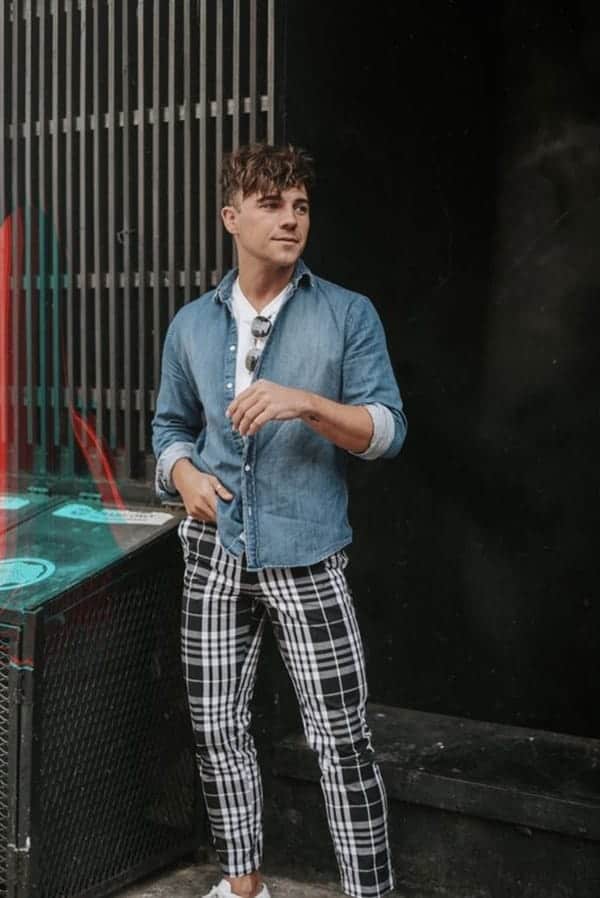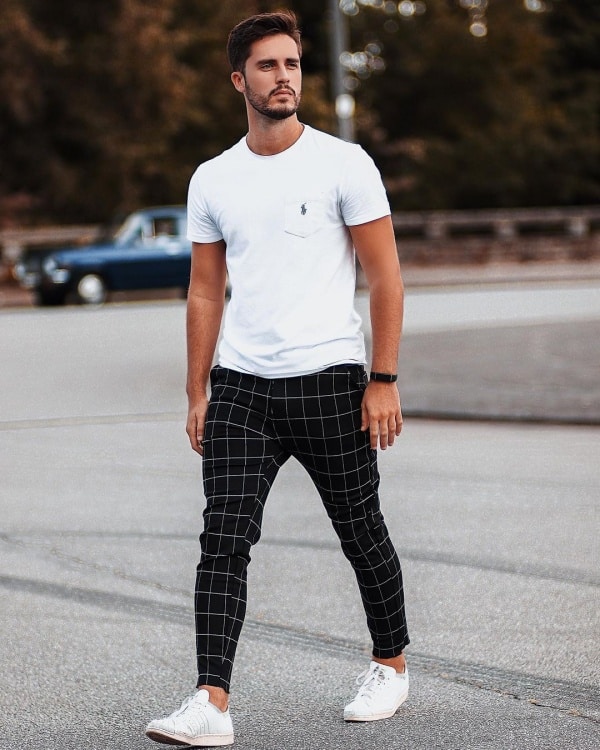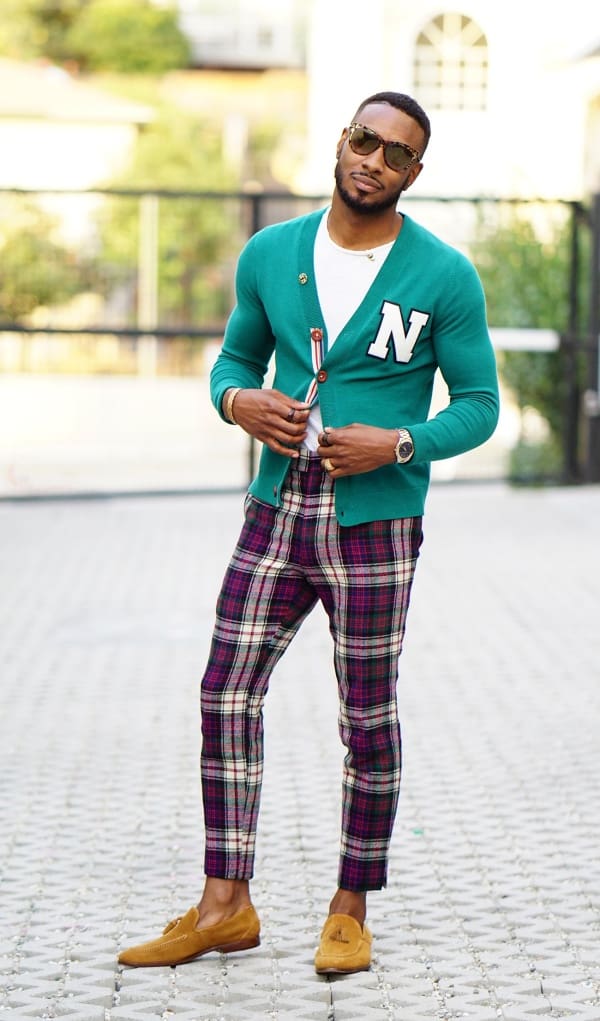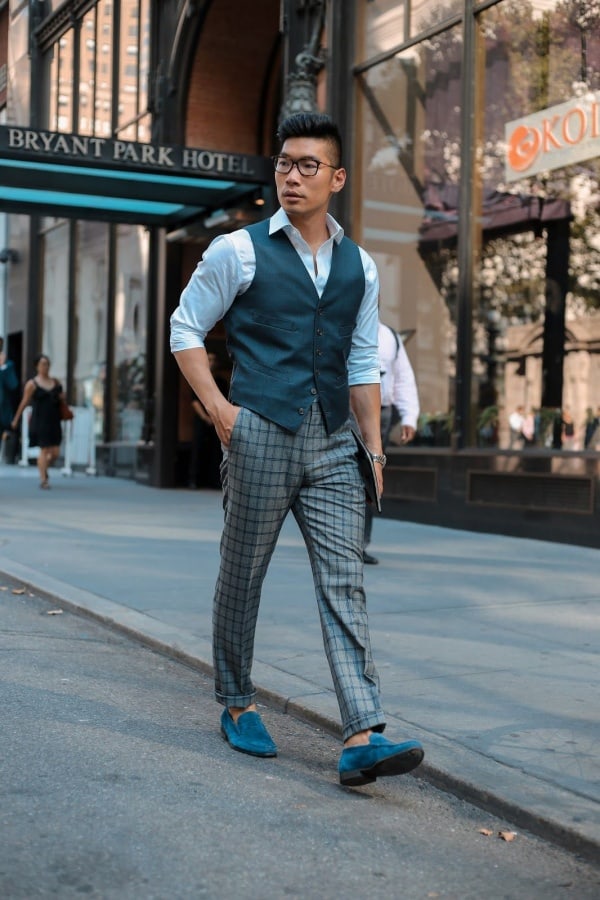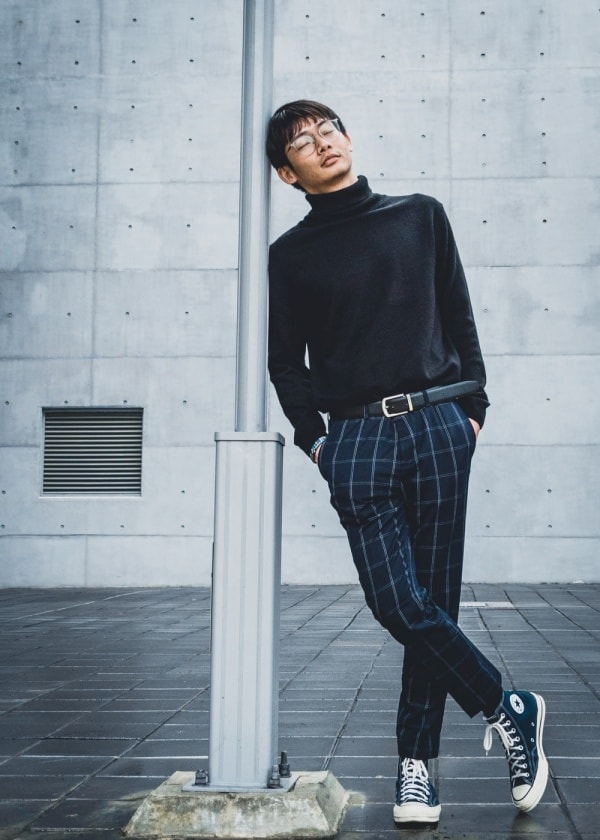 CONCLUSION
Plaid pants can be styled in more than ways you can think of. The plaid pattern has become so popular these days that it is incorporated into accessories like hairbands, scarves, and ties. Men's plaid pants outfit ideas open a wide range of the latest fashion trends before you so that you can select your favorite one among them and wear it on some suitable occasions. A matching piece of garment on the top, a pair of gorgeous shoes, and you are all set to style with confidence in the plaid pants. So, be it fall, winter or spring, take out the plaid pants from your closet and give your everyday fashion a new twist with this trendy outfit.
You may also like: